Lee Filters Field Pouch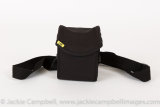 Lee Filters Field Pouch- for ten 100mm x 150mm filters
I like a simple, uncomplicated life and when you're getting up at silly o'clock to shoot sunrises, things need to be kept as simple as possible...at least they do for me! Like most landscape photographers, I've built up a collection of filters that I like to use. They used to live in my camera bag, each in the individual wrapping that they came in. Nightmare!
The solution of keeping your filters in their original individual wrappings may sound fine and dandy until the day comes when you want to shoot using your filters in less than ideal conditions. Where is a safe/dry place to put your camera bag down to wrestle through the zips/pockets and grapple to reach the desired filter? It's not always possible to put the camera bag down, especially near the sea. Individual wrappings can get blown away, etc plus it's quite time consuming trying to get at filters in this manner and we all know that the early morning light can change quite quickly so speed and ease of getting to your filters safely is paramount. I also found that it was less than ideal having multiple filter cases in my camera bag as I felt that it could lead to one being accidently mislaid if a number of filters were being taken out of a bag in the search for the "one" that you needed.
Not happy with my situation, I went on a Google search for filter bags and found the Lee Filters Field Pouch- for ten 100mm x 150mm filters and bought it. It was exactly what I had wanted.
To say that it has simplified my photographic life would be an understatement. I love it. It has space for ten full sized 100mmx150mm filters and it's not rocket science to organise your filters so that you are putting them in the pouch in a particular order so that you can easily find the one that you are looking for.
I like the orientation of the pouch, ie Long and thin/portrait shape as this allows you to be able to put the filters in their individual sections with the top of the filter visible where it indicates the type. Ie 0.6 hard grad.
It comes with one long strap so that you can wear it across your body and one short strap if you wanted to hook it round the top of your tripod, for instance. It also has a substantial belt loop so lots of options on how you want to wear the pouch.
It has a flap over top that closes with Velcro – and this would be my one minor complaint. The Velcro on mine went "fluffy" after a while and stopped working. Lee : A minor tweak to improving the fastening to something like a popper button or a magnetic fastener would vastly improve the lifespan of this great accessory. It's my only complaint about this product. But, I have to give Lee a lot of credit for customer service. I was at the photography show in Birmingham and brought the bag with me to show the guys at the Lee stand. They immediately swapped it out for a new one and took note of my feedback so top marks to Lee for customer support.
I have it now for about 7 months and it's still one of my favourite accessories. It has two zips that run down the sides so that when unzipped, the bag stretches out accordion like to give you better visibility of your filters and also to aid you in taking the filters in and out of the pouch.
It's made of tough cotton canvas and protects the filters really well. I've also found that the first pocket at the front is just that bit bigger than the others and nicely fits my Lee foundation filter holder so I can have all filter accessories in the one place. Just what I like; A nice simple life!
Note/Disclaimer: I have no relationship with Lee Filters at this time and was not asked or paid to write this review. All reviews are based on my own personal experience. Whilst every effort is made to give accurate information, I cannot be held responsible for any inaccuracies and would ask that you do your own independent research before making any purchasing decision. Unless otherwise noted, I (Jackie Campbell, Jackie Campbell Images) am the legal copyright owner of all content, in all formats- written and graphic, on this website and it may not be used, reprinted, modified in any way or published without my written consent.